Steffi Munshaw
Education Consultant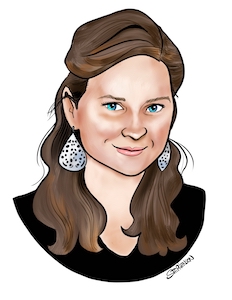 A self-confessed student for life, Steffi holds a Diploma in Theatre Performance from Douglas College, a Bachelor of Fine Arts Degree with a Major in Theatre Performance from the School of Contemporary Arts at Simon Fraser University, and a Bachelor of Education with a Minor in Environmental Education also from SFU. When not moonlighting as a children's theatre director, Steffi spends her days teaching grade 2/3 for Squiala First Nation.
A prolific educator, Steffi has spent many years teaching theatre to youth in Chilliwack, the Fraser Valley, and as far away as Nunavut. Steffi has performed all over the Fraser Valley with Secondary Characters, Chilliwack Musical Theatre, the Chilliwack School of Performing Arts, the Fraser Valley Gilbert and Sullivan Society, Douglas College, Simon Fraser University, the University of the Fraser Valley, Troika Collective, and 591 Productions. Some of her favourite onstage performance credits include Jo (Little Women, Secondary Characters Musical Theatre), Maria (West Side Story, Chilliwack Musical Theatre), and Alice (the Alice, SFU School for Contemporary Arts). Performing everything from classics to contemporaries and from opera to absurdism, Steffi loves creating newly imagined works of art.
In what little spare time she has left, Steffi also loves working backstage in theatre having stage managed, dramaturged, artistic directed, directed, musical directed, and designed many shows in both Chilliwack and Vancouver. Recently, she has directed for Secondary Characters Musical Theatre including the Wizard of Oz and the Last Five Years which had a successful remount last year at both the RickRack in the 'Wack Festival and the Harrison Festival of the Arts. Steffi is currently stage managing the Music Man for Newbury Arts Concepts and is resident production manager for Secondary Characters Musical Theatre.
---
Martin Lowe
Studio Manager
Martin Lowe is a man of many talents.  Picture if you will, Mad Men by day and Super Dad by night. As an account manager for the "world-famous" Carter Hales Design Lab, Martin spends his day corralling designers and keeping numerous clients on cloud 9 as they experience the excitement and motivating power of brand design. When he's not keeping Carter Hales in order, Martin helps his wife chase after their son. Many a day are spent at the playground, playing board games, and reading stories.
As if that wasn't enough to keep Martin busy, he dons yet another costume at The Stage. Martin is an invaluable member of the team. From maintaining the website, creating brochures and all things visual, managing events, welcoming renters, and generally keeping the Director on track (a full time job in it's own right), Martin does it all.
---
Erin Michell
Instructor
Erin is a professionally produced playwright and performing artist specializing in choreography, storytelling, acting, and musical theatre. Originally from Victoria, BC, Erin found her love of dance at the young age of four years old and never looked back! Erin has trained in jazz (ISTD), tap (ISTD), musical theatre, ballet, pointe, pas de deux, contemporary, modern, and hip hop, at competitive levels. Erin continued her training in dance, acting, and voice at the Canadian College of Performing Arts, receiving a diploma in performing arts.
Upon graduation, Erin spent three seasons touring across Western Canada as an actor with The Story Theatre Company (Aladdin, The Great Beanstalk Conspiracy, Fables Fools & Fantasies) focusing on traditional storytelling, puppetry, and mask work. She was a participant in Sue Morrison's 2013 Pochinko style "Clown Through Mask" workshop in Cork, Ireland. As a choreographer Erin has worked with Theatre Inconnu, Atomic Vaudeville, Fighting Chance Productions, and on various films and music videos in Victoria and Vancouver, BC.
Choreography and directorial credits for stage include Cock (Theatre Inconnu), The 25th Annual Putnam County Spelling Bee (FCP – CTC nomination for best choreography), The Jungle Book, Seussical The Musical, and Honk Jr (StageNewWest). Choreography and dance credits for film include #ThisisAna – Ep 109 (webseries), Lift A Finger (music video), We Could Be In Love (music video). Most recently, Erin's play "The Very First Circus" is currently being produced, performed, and toured for preschoolers on Vancouver Island by The Story Theatre Company in the Spring of 2020!
Erin loves her role as an educator in this industry, and enjoys sharing her passion for dance and theatre with her students!
---
Stefanie Swinnard
Certified Early Childhood Music & Movement Educator/Director
Stefanie hails from the arts embracing city of Chilliwack. She started performing at the tender age of 3 and hasn't stopped since.
She first fell in love with musical theatre at age 10 and is veteran of the Chilliwack Musical Theatre Company, having performed such roles as Anna (The King and I), Anita (West Side Story) and Eliza Doolittle (My Fair Lady); to name a few; and she studied with the Chilliwack Academy of Music for over a decade.  Stefanie has had the chance to hone her skills as a musical theatre performer working with directors such as David Walsh, Caroline Harder, Paula Quick, Andy Toth, Scott Knight & Erica Northcott. She is a classically trained singer of nearly 16 years and has received many regional and provincial awards including Best Musical Theatre Voice and Senior Classical Voice Runner-Up at the BC Provincial Festival of the Arts. Stefanie is an honours graduate of both the University of the Fraser Valley Theatre Program and the Douglas College Musicianship Program.  She was seen most recently in the role of Alice Beane in Theatre Under the Stars' production of Titanic: A New Musical in Stanley Park.
Stefanie has enjoyed numerous offstage roles including stage management & hair and makeup design for the University of the Fraser Valley, costume and wardrobe management for Suor Angelica and Seven Deadly Sins for the University of Minnesota and even as a "Munchkin Wrangler" for TMA New York's touring production of The Wizard of Oz.
Wanting to stay active in her hometown arts community Stefanie has been the Junior Program Director for the Chilliwack School of Performing Arts for nine seasons having directed The Jungle Book, Thumbelina,  Alice in Wonderland, Wizard of Oz, The Aristocats, Cinderella, and coming June 2013, The Musical Adventures of Flat Stanely.
Continuing to share her love of music and the arts with children she became an Early Childhood Music and Movement Educator and has spent 10 years providing the highest quality music and drama programming to preschools, elementary schools, community centres and dance schools throughout Vancouver, Burnaby, Coquitlam, Richmond & New Westminster.  She has an extensive background in early childhood education and development and is a frequent attendee of national and international conferences, workshops and seminars.
Stefanie truly believes that everyone benefits from music, movement, and drama education not only from a social standpoint, but more importantly from a developmental side.  The Performing Arts are a perfect vehicle for encouraging whole child, or whole person, development and it is with this in mind that all curriculum provided at The Stage is carefully planned and evaluated so that not only do our students become great performers, they become great people.